The Story / Iris
Synopsis

Judi Dench, Jim Broadbent, Kate Winslet and Hugh Bonneville star in the Mirage
Enterprises/Robert Fox/Scott Rudin Production of IRIS. Oscar winner Judi Dench
and two-time Oscar nominee Kate Winslet each portray the novelist Iris Murdoch
in two distinct periods of her life, with Jim Broadbent and Hugh Bonneville playing
her husband John Bayley.

Directed by Richard Eyre, IRIS tells the tender And extraordinary story of the
enduring love between the novelist and philosopher Iris Murdoch and her husband
John Bayley, from the romance of their early days at Oxford in the 1950s to her
untimely death in 1999.

The supporting cast includes Penelope Wilton, Juliet Aubrey, Samuel West,
Timothy West and Eleanor Bron.

IRIS is written by Richard Eyre and Charles Wood, and based on John Bayley's
memoirs, Iris: A Memoir and Elegy For Iris. It is produced by Robert Fox and
Scott Rudin, and the music is composed and conducted by James Horner with
solo violinist Joshua Bell. The executive producers are Anthony Minghella,
Sydney Pollack, Tom Hedley, Guy East, David M. Thompson and Harvey Weinstein.
The film is based novels written by Iris Murdoch's husband, John Bayley. 'Elegy For Iris' charts Bayley and Murdoch's first encounter more than 40 years ago while teaching together at Oxford, their marriage together and the writer's subsequent struggle with Alzheimer's disease.
Author Lev Raphael ('Little Miss Evil') has described a portion of the novel in a review:
Given their long, happy marriage, Bayley and Murdoch's first meetings were comically inauspicious. In his late twenties and a graduate student teaching at Oxford after World War II, Bailey spied Murdoch bicycling past one day looking grumpy, grim, and not entirely attractive. Yet for Bailey, she was almost an apparition, a woman existing only in the moment--and for him alone. But his instantaneous fantasies were soon crushed when he met her at a party and realized she was merely another teacher. How ordinary! Worse still, she was clearly a popular and magnetic woman with many friends (and not a few lovers, he would learn). Though he tried, he never managed to make conversation with her that night, and when his next opportunity came at a dinner, he was daunted by the seriousness with which this philosophy teacher considered his most casual remarks.
On their first date he was oddly shocked by her brilliant red brocade dress which struck him as inappropriate for her, and she managed to fall down stairs as they entered a ball. But not much later they were laughing and sharing childhood confidences, and it's thanks to their childlike joy that the bonds between them were first knit, lasting even into her Alzheimer's.
From the earliest days onward, marriage and solitude were not contradictions for them. They could "be closely and physically entwined, and yet feel solitude's friendly presence, as warm and undesolating as contiguity itself."
All that reverberates strangely with the ways in which Murdoch now is shut off from him far more than she ever was as a creative artist, but seems to need the constant reassurance of his presence. She is like a child hungry for attention, but unable to communicate clearly, and sometimes needs to be gently shooed away so that he can have time to himself. Yet she returns, anxious, needful. Sometimes her confusions drive him into a rage, but she often responds to these outbursts with the same ameliorative calm she always had.
Following is a review of the novel: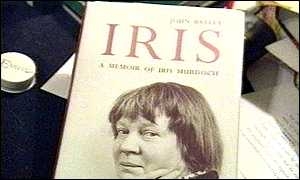 In one of literary history's ghastlier ironies, Iris Murdoch, the author of such highly intellectual and philosophical novels as A Severed Head and Under the Net, was diagnosed in 1994 with Alzheimer's disease, which slowly destroys reasoning powers, memory, even the ability to speak coherently. Her husband, English literary critic John Bayley, unsparingly depicts his wife's affliction in prose as elegant and accessible as hers always was. Readers may wince at the spectacle of Murdoch glued to the TV watching the Teletubbies program, unable to perform tasks as simple as dressing herself and prey to devastating anxiety as the world becomes less and less comprehensible to her. We understand Bayley's occasional fits of rage when his caretaking chores overwhelm him. Yet in the end his memoir is touching, even inspiring. As he recalls their first meetings and marriage in the 1950s, it becomes clear that theirs was always an unconventional union, in which solitude was as important to each of them as togetherness and Bayley was content to let Murdoch keep her inner life to herself. He loves Iris, the woman, not the intellect, and he conveys an essential sweetness about his wife that endures even as her mental faculties deteriorate. This totally unsentimental account of their life and her illness is nonetheless a heartbreaker. -- Wendy Smith
The first chapter of 'Elegy For Iris' is published online and the book is available from Amazon.com.
Who was the 'real' Iris? Here is a brief bio:
Iris Murdoch was born in 1919 in Dublin on July 15, of Anglo-Irish parents. She went to Badminton School, Bristol, and read classics at Sommerville College, Oxford. During the war she was an Assistant Principal at the Treasury, and the worked with U.N.R.R.A. in London, Belgium and Austria. She held a studentship in philosophy at Newnham College, Cambridge, for a year, and in 1948 returned to teach philosophy in Oxford as a Fellow of St Anne's College. In 1956 she married John Bayley, teacher and critic. She was awarded the C.B.E. in 1976 and was made a D.B.E. in the 1987 New Year's Honours List. Iris Murdoch died on February 8, 1999 in Oxford.
Following is a tribute article:
Dame Iris Murdoch, 1919-1999
Dateline: 2/11/99
"The voyage is over, and under the dark escort of Alzheimer's she has arrived somewhere. So have I."
-John Bayley, from Elegy For Iris
The world of letters suffered a blow earlier this month when novelist and philosopher Dame Iris Murdoch succumbed to the Alzheimer's that has kept her these past three years. Widely considered to be among this century's finest British writers, Murdoch penned some 30 works of fiction and nonfiction, many of them embracing the themes of metaphysics, religion, and philosophical speculation.
Life & Works -- Murdoch was born July 15, 1919 in Dublin and quickly established herself as a scholar, with educational stints at Badminton School, Somerville College, Oxford University and Newnham College, Cambridge University. She taught at Oxford, and her first book, "Sartre: Romantic Rationalist" was published in 1953. It was the first book on Sartre written in English.
Many of her works were fiction, philosophical arguments that looked at goodness, love, and religion. Taken all together, the body of her work was an award magnet. The Whitbread Prize, the Booker Prize, a CBE and a DBE... The literary prizes are stacked high around the Murdoch legacy.
The Bad, Quiet Place -- Alzheimer's is devastating wherever it strikes, but when it touches as gifted a thinker and writer as Iris Murdoch, the temptation becomes very strong to label it, simply, "evil." Last year her husband, writer and critic John Bayley, wrote of her life and the illness in 'Elegy For Iris'. A review of the work in the October 3rd edition of The Irish Times touched very well on its bittersweet theme; a brilliant creative life and the descent into a condition that Murdoch herself described early on as "a very, very bad, quiet place."
Dame Iris Murdoch was 79.
From a 1990 interview with Iris:
On the way to the elevator, she was asked if it was true that someone was writing her biography. Yes, it was, she said, much to her surprise; that she might be the object of an almost universal curiosity had never occurred to her: ''I don't read biographies, but apparently people buy them. But me? What is there to say about me?'' That steady, clear-browed gaze spoke for her genuine bemusement. ''Perhaps it'll be about the books,'', she said with relief as she stepped into the elevator, dressed in a way that was not so much out of fashion as beyond it, clutching a large and shapeless bag and holding erect, with not the faintest hint of vanity, one of the more distinguished of human heads.
Quotes by Iris:
''Writing is like getting married. One should never commit oneself until one is amazed at one's luck. ''
''No love is entirely without worth, even when the frivolous calls to the frivolous and the base to the base.''
''Happiness is a matter of one's most ordinary everyday mode of consciousness being busy and lively and unconcerned with self. To be damned is for one's ordinary everyday mode of consciousness to be unremitting agonizing preoccupation with self.''
''Truth is always a proper touchstone in art, and a training in art is a training in how to use the touchstone. This is perhaps the most difficult thing of all, requiring that courage which the good artist must possess… The analogy with virtue is here very plain; and of course the artist's discipline includes the exercise of virtue: patience, courage, truthfulness, justice. As a father or citizen the good artist may of course be less than admirable. As moral agents we tend to specialise.''
Timeline of the life of Iris Murdoch:
1919: born Jean Iris Murdoch in Dublin, 15 July (only child, father civil servant, cavalry officer in WWI; mother had trained as an opera singer; together "a perfect trinity of love"). Lifelong sympathies with Protestants in Irish troubles.
Moves to London (Hammersmith and Chiswich); Badminton School, Bristol
1928: "compulsive writer since the age of nine"
Studies classics, ancient history and philosophy at Somerville College, Oxford. Active communist, but soon became disillusioned and left the party.
1938-42: Asst principal at Treasury
1944-46: United Nations Relief and Rehabilitation Administration in London, Belgium and Austria
1940s: Meets Sartre
Many lovers: An early boyfriend was Frank Thompson, brother of the historian and peace campaigner E. P. Thompson, under whose influence she joined the Communist Party; after the war she became involved with Raymond Queneau, the mathematician and novelist; Sartre; and the Nobel winning novelist Elias Canetti. Was she in love with them? "I admired the men I was involved with for their personalities and their minds," she said later. "I both wished and needed to learn from them." (Times obit)
Canetti: "Murdoch's 'Wise Man' figure would seem to be largely based on Elias Cannetti, a Ladinospeaking polymath of Bulgarian origin who washed up in England [in 1939] and under whose spell Iris Murdoch languished for many years. Something of a genius, something of a charlatan, his presence broods over many of her novels, down to the character of Peter Mir in The Green Knight." [This Is London]
1946: Refused permission to take up a scholarship in the United States because of her communist activities at Oxford.
1947: Postgrad studentship in philosophy under Wittgenstein
1948: Elected fellow of St. Anne's College, Oxford
1948-63: Tutor at Oxford (given up because she found it "a great strain")
1954: Diary entry for 3 June: "St Antony's Dance. Fell down the steps, and seem to have fallen in love with J[ohn Bayley]. We didn't dance much." Bayley's version: "We talked without stopping... endless, childish chatter... seeming to invent on the spot, as we talked, a whole infantile language of our own." [EfI]
1956: Marries John Bayley, professor of English at Oxford (living first at Steeple Ashton, then North Oxford, in "a famously chaotic household"-- they never cleaned). "He took charge of the cooking and she did the shopping. They were both excellent dancers and devilish poker players. They knew by heart the popular songs of the 1920s and 1930s and they enjoyed travel."
c1957: one month fellowship at Yale
c1962: time at McMaster U in Canada, visit to Chicago
1963-67: Lecturer at the Royal College of Art.
1974: Whitbread Prize for "The Sacred and Profane Love Machine"
1976: CBE award
1977? Nearly drowns at Dorset [EfI says c1985, but inspired sequence in book]
1978: Booker Prize for "The Sea, The Sea"
1982: donates to Hungarian activist organization
1987: Made Dame Iris Murdoch (shocking to liberal friends)
1992? Honored at U of Chicago Divinity School for the religious depth of her novels
1999, February 8: Passed away
Links to more on Iris:
Websites about Iris --
Iris Murdoch Internet Resources
Iris Murdoch Resources on the Web
Books and Writers-Iris Murdoch
Mailing List about the works of Iris